Some of the cafes around the Institute of Mathematics and hotels

Institute of Mathematics


"Ukraine" Hotel

"Domashnya Kukhnya" (Khmelnitskogo Street 16- 22)


"Velyka Lozhka (Big Spoon)" (Pushkinska Street 8/16)


"Zdorovenky Buly" (Lyuteranskaya Street 3, behind Khreshchatyk St., 21 !)

"Puzata Hata" (Khreshchatyk-Zankovetskoy St. 15/4)


"Dva Gusya" (Khreshchatyk St. 7/11)

fast food cafe (in Metrograd shopping centre is situated under ground in Maidan (Indepandance Square)
( - !!!!!!!! right here

!!!-)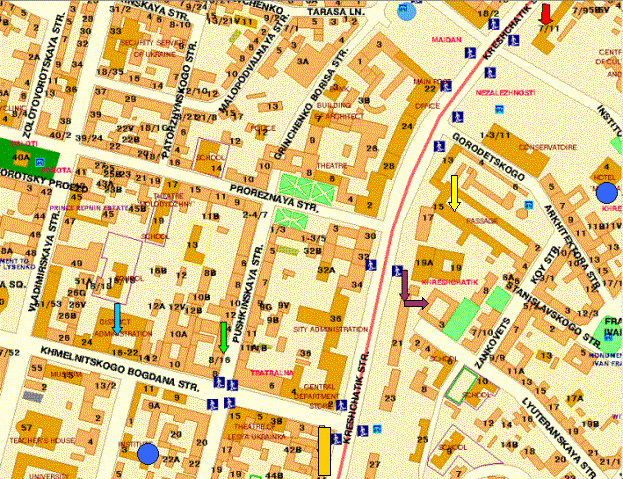 continuation...

"Ukrainski Stravy" (Bessarabska Square 1/2)



fast food cafe (in Metrograd shopping centre is situated under ground)


Institute of Mathematics


"ST. PETERSBURG" Hotel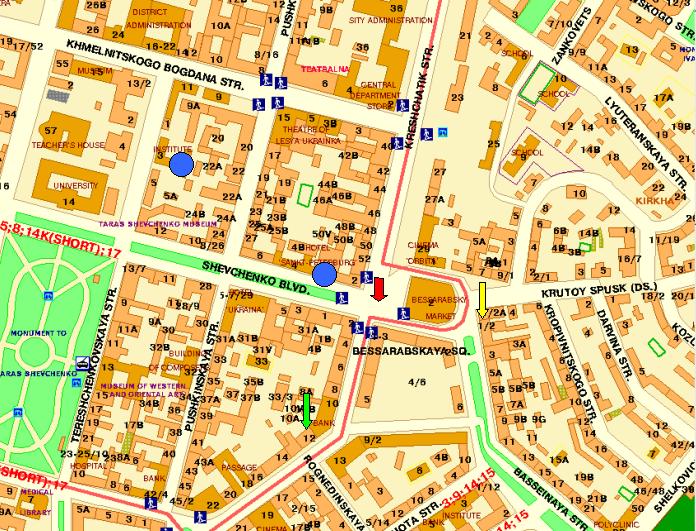 Restaurants
On the cheaper side there are two Western franchise places close to Bessarabsky Market (TGIF and something pizza). One of the best options for food and beer is Sunduk Pub (there are two outlets - near Express Hotel and at Mykhailivska Street close to Kozatsky Hotel).
You will get enough advertising for more expensive restaurants in the airline magazine and in the airport, so we do not go on in detail into this subject. We would list only two close-by restaurants (not cheap but people say they are nice) recommended by our friends and by participants of the previous conferences - Pantagruel near Golden Gate and Chateau de Fleurs at Khreshchatyk Street opposite to Khreshchatyk metro station.